Today I thought I would introduce you to 3 of my daily reads

This is one of my favorite blogs . Not a day goes by without my reading it It is written by Melissa - a stay at home mom to 5- I can barely keep my head above water with 2!
She has wonderful photos of her re-do projects(a shared passion)she hosts great giveaways(another passion) and has incredible ideas on how to get the most bang for your buck(yet another shared passion).
But one of my favorite things about her blog is how she truly celebrates the simple things in life-something in our hustle and bustle lives we tend to forget to do.
Oh and one last thing I love is the name itself-320 Sycamore which is the address of the home of George & Mary Bailey from one of my favorite movies It's a wonderful life.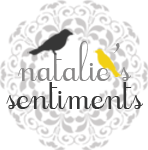 I absolutely love reading Natalie's blog. I love to read about what is currently challenging,inspiring,impressing and pissing her off. She always has the most amazing photos(loved the recent snow photos) which has motivated me to really work on my photography skills. She has introduced me to amazing products and lovely blogs that I would have otherwise never have come across if it wasn't for her. She also has giveaways which I love and I even won a scentsy burner from her blog just before the holidays.



I love me a giveaway. Not only do I always post my own giveaways here but I enter a couple a day from here too. I love the diversity of the prizes. The blog is very organized and very easy to navigate